Description
First-class Soviet cargo trucks and campers URAL-375D for sale. Buy it now.
Czech classic car road-registration available.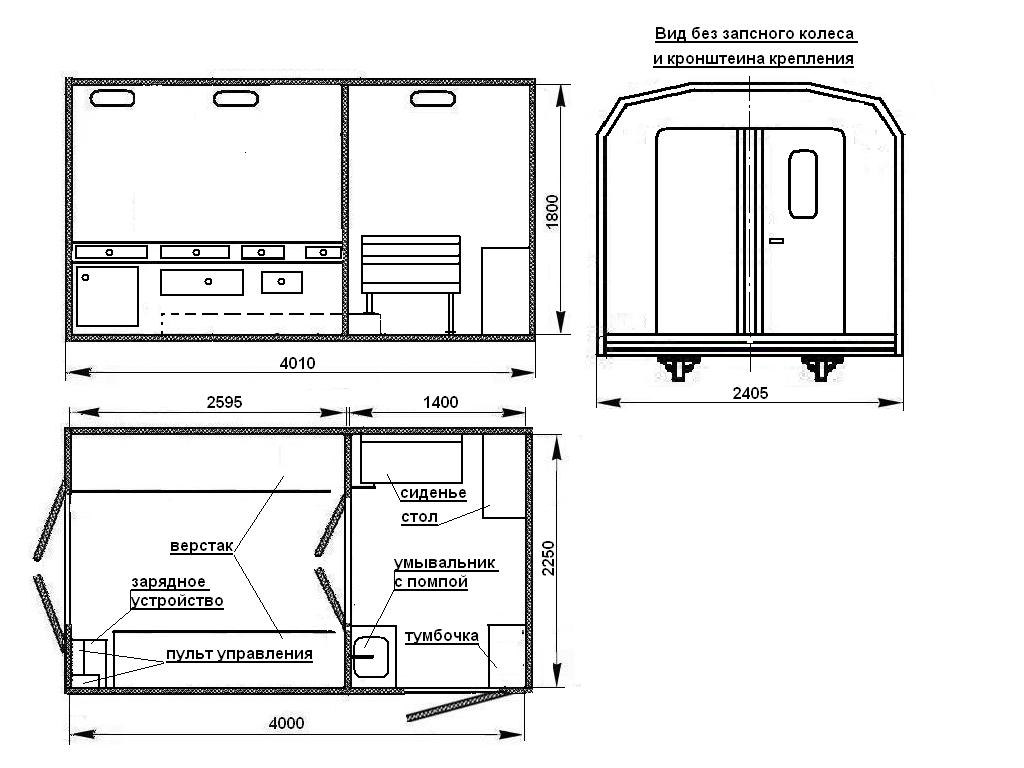 Dimesions of a URAL-375D KUNG shelter box
Internal dimensions of a shelter for URAL-375D
Length 4510 mm
Width 2400 mm
Height (axis) 1800 mm
Height (at the side wall) 1390 mm
The Ural-375 (Russian Урал-375) is a four-wheel-drive Soviet truck with a bonnet handlebar design with the drive formula 6 × 6, which was manufactured in the Uralsky Avomobilny Zawod. It was widespread in the CMEA area and classed below the KrAZ-255. The vehicle was built in various versions, whereby the most famous, the Ural-375D, also came to the GDR NVA in larger numbers. In its capacities, it is very similar to ZIL-131 trucks and to KAMAZ-4310. GAZ-66 is a lighter 4x4 version of such trucks.
Ural-375 of the first version
The first ideas for developing an off-road military truck were already available in the Soviet Union in 1953. At that time, the Ministry of Defense formulated a whole series of criteria that the new vehicle had to meet. These were given to the vehicle construction institute NAMI in Moscow with the order to develop corresponding test samples. The aim was also to close the gap between the smaller ZIS-151 and the larger JaAZ-214 or KrAZ-214.
The NAMI-020 was built until 1956 under the direction of the engineer M. I. Korotonoschko. In fact, a whole family of trucks was designed, producing models with two (drive formula 4 × 4), three (6 × 4 and 6 × 6) and four axles (8 × 4 and 8 × 8). In the end, only the version with three axes was approved for mass production.
The extensive trials of the test vehicles were completed by 1958. All documents and functional samples went to Uralski Awtomobilny Zawod imeni Stalina (from 1961 Uralski Awtomobilny Sawod), where the final work was completed. In particular, the tires used were enlarged and minor modifications were made to the all-wheel drive. The vehicle was also given its final name: Ural-375. In spring 1959 further tests were carried out with the revised prototypes, whereby vehicles of the type Ural-375T were also created. With a foldable windscreen and completely foldable sidewalls, these were suitable for air transport by the military.
Series production of the trucks began in November 1960, with the first ten complete vehicles leaving the factory on January 31, 1961. NAMI also checked these trucks extensively and later confirmed that all planned design requirements were met. Until 1964, only Ural-375 vehicles were built that still had a canvas weather roof as roof. From this year, the Ural 375D came into series production, whose cab is constructed entirely of metal. Around the same time, the Ural-377, a civilian version without all-wheel drive, appeared. Right from the start, these were exclusively equipped with an orange-painted driver's cab for use in Siberia and other remote regions in order to be able to locate vehicles better from the air. This was essential for survival in the event of breakdowns or accidents away from civilization.
In 1977, the Ural-4320, a much more economical successor to the model with a modern diesel engine, appeared. Nevertheless, the Ural-375D and the Ural-4320 were built in parallel for many years - especially in areas with predominantly very low temperatures, the gasoline engine offers several advantages over the diesel engine.
In 1982 the vehicle family around the Ural 375D was revised again. The resulting models were built until the early 1990s, when production was gradually reduced. As there were bottlenecks in the delivery of diesel engines for the Ural 4320 due to accidents at the engine supplier KAMAZ in 1993, production was discontinued somewhat later than planned. At this point, however, the entire range of models was no longer built.
Military importance

The Ural-375D was one of the standard vehicles of the Soviet Army and played an important role as a transport vehicle in various other armies of the former Eastern Bloc.
A considerable number of Ural-375 and especially Ural-375D were also found in the GDR's National People's Army. Since the IFA G5 was discontinued, the Urals quickly developed into the standard vehicle for many different tasks. The import officially began in 1969, and in fact some Ural 375s of the first version came to the GDR from 1964. From 1965 to 1981 only Ural 375D were imported, a total of about 3700 vehicles.
In addition to the standard version with platform and tarpaulin, the NVA also ran various special versions, including tank trucks such as the model AC-5.5-375 for 5500 l fuel or the Ural-375S and Ural-377S tractor units.
Technology:
All following technical data and data refer to the model Ural-375D from about 1966.
Length 7350 mm
Width 2690 mm
Height 2980 mm
Wheelbase 3500 + 1400 mm
Empty weight of the chassis with winch at least 8400 kg (plus body)
Payload 4800 kg
Permitted trailer load 10,000 kg
Permissible total weight 13,200 kg
Top speed, fully loaded 75 km / h
Optional fuel supply 300 l + 60 l
Middle driving range including reserve 500–550 km
Average fuel consumption 45–50 l / 100 km
Frame riveted longitudinal and cross members
Towbars two rigid tow hooks at the front, buffered drawbar at the rear
Tubular tires 14.00-20 for variable air pressure
Three-piece rim, 10-20
Tire pressure, adjustable from… to 0.5–3.2 kp / cm2
Gradeability at full mass 30 °
Minimum turning circle 21 m
Wading depth 1.5 m
Tyres: 14.00 R20
Engine:

A V8 four-stroke petrol engine serves as the engine. Prototypes were given a ZIL-6E129 (ЗИЛ-6Э129) engine, which generates an output of 132 kW from a displacement of around 7 litres. A ZIL-375 (ЗИЛ-375) engine was used for the series vehicles. The ZIL-375 differs only slightly from the ZIL-6E129 in a different carburettor and a different engine setting; the ZIL-375 has the same nominal output of 132 kW (180 hp), but is significantly more elastic. In the NVA (National People's Army), the engines were throttled to a maximum output of 128 kW (175 hp). The engine has been optimized for maximum speed elasticity and consumes about 45 litres per 100 kilometres on the road at a constant speed of 60 km / h. Off-road consumption can increase roughly twice, with gear reduction, higher engine speeds and lower gears.
Engine type: ZIL-375
Type eight-cylinder four-stroke Otto, liquid-cooled
Mixture preparation quad carburettor type K-89A
Approved fuel Carburetor fuel with at least 76 octane
90 ° V eight-cylinder design
Nominal output 132 kW (180 hp) at 3200 rpm
Total displacement 6959 cm3
Bore × stroke 108 × 95 mm
Compression ratio 6.5: 1
Maximum torque 466 N · m at 1800 rpm
Lowest specific fuel consumption 326.4 g / kWh (240 g / PSh)
Lowest idling speed 400–500 min − 1
Highest continuous speed 3000 rpm
Firing order, entire engine 1–5–4–2–6–3–7–8
Cylinder order cylinder bank left 1–2–3–4
Cylinder order, right cylinder bank 5–6–7–8
Turning the crankshaft to the right
Oil pressure when the engine is warm from 1 to 5.5 bar
OHV valve control, two valves per cylinder
Lubrication system pressure circulation/spray oil
Fuel delivery diaphragm pump
Two-stage coarse/fine fuel filter with water separator
The same engine was also installed in the much heavier ZIL-135. However, the vehicle used two of the engines. Also in the experimental vehicle ZIL-E167 two motors of the type ZIL-375 were installed, which drive the wheels on the left or right side just like in the ZIL-135.
Transmission and power transmission
The Ural-375D has three rigid, permanently driven axles with large single tires and a lockable and releasable transfer case. The high off-road mobility is achieved by the typical tires with tractor profile and the variable tire pressure while driving. The truck has a five-speed manual transmission and a two-speed transfer case. As a result, ten gears are effectively available. All three axes are driven permanently. They are suspended from leaf springs, at the rear as a Bogie double axle, i.e. the leaf springs are rotatably mounted in the middle and the axes are fastened at the ends.
Drive concept, permanent four-wheel drive formula, 6 × 6
Clutch two-plate dry clutch
Gearbox JaMZ-204U, mechanical, five gears + R-gear, 1st gear unsynchronized
Ratios 5.62 / 2.89 / 1.64 / 1.00 / 0.724 / R = 5.3
Mechanical transfer case, two-speed, lockable
Road / terrain ratio 1.3 / 2.15
Torque distribution VA: HA 1: 2
PTO shafts open, with needle bearings
Axle drive two-stage gear, without lock
Total translation of the axles 8.90
Electrical system

In order to achieve high off-road mobility, it was necessary, among other things, to design parts of the electrical system to be watertight. Some versions also use special cables that can withstand extreme heat or cold.
Wiring single-wire, minus ground
Operating voltage 12 V.
Generator waterproof, AC, 40 A.
Voltage control of electronic semiconductor controllers, contactless
Batteries 12 V, 140 Ah
Motor starter 80 A with magnetic switch
Headlamp H4 halogen 55/65 watts, waterproof

Special equipment

The Ural-375D could be equipped with various additional technology on request and at an additional cost. In particular, this included a cable winch attached to the rear, which was driven by the engine of the vehicle via a branch transmission. With a rope length of 65 m and a rope thickness of 17.5 mm, it was able to apply a maximum force of 70 kN. This corresponds to a freely liftable load of almost seven tons. The branch transmission could also be procured individually, 40% of the engine power could be taken from it.
Additional equipment also included a 60-litre additional tank, hydraulics for lowering the spare wheel, heating for the driver's cab and additional seals for various drive components for deepwater passages. It was also possible to order a gasoline-powered engine heater with an output of 17 kilowatts, which affects coolant and engine oil. So the vehicle remains ready to start even at extremely low temperatures.