Description
Buy a nifty Soviet machine. Splendid Russian diesel URAL-4320 trucks and campers for sale.
Czech classic car road-registration available.
Ural-4320 (Russian Урал-4320, the current spelling of the manufacturer is URAL-4320) is an all-wheel-drive Russian truck in hood handlebar design with the drive formula 6 × 6. It was developed during the existence of the Soviet Union and has been produced by Uralski Awtomobilny Zawod since then. It serves as an all-terrain transport and set-up vehicle for various, often military, applications. As a type 4320 is close to ZIL-131 trucks, yet are mostly diesel-powered, like KRAZ-255B. Its principal competitor is KAMAZ-4310.
With the Ural-4420 there is a version of the truck as a tractor unit, as the Ural-5557 a variant of the vehicle is also built as a tipper. In addition to the standard version of the Ural-4320 with three axes, there is also the smaller Ural-43206, which has only two axes.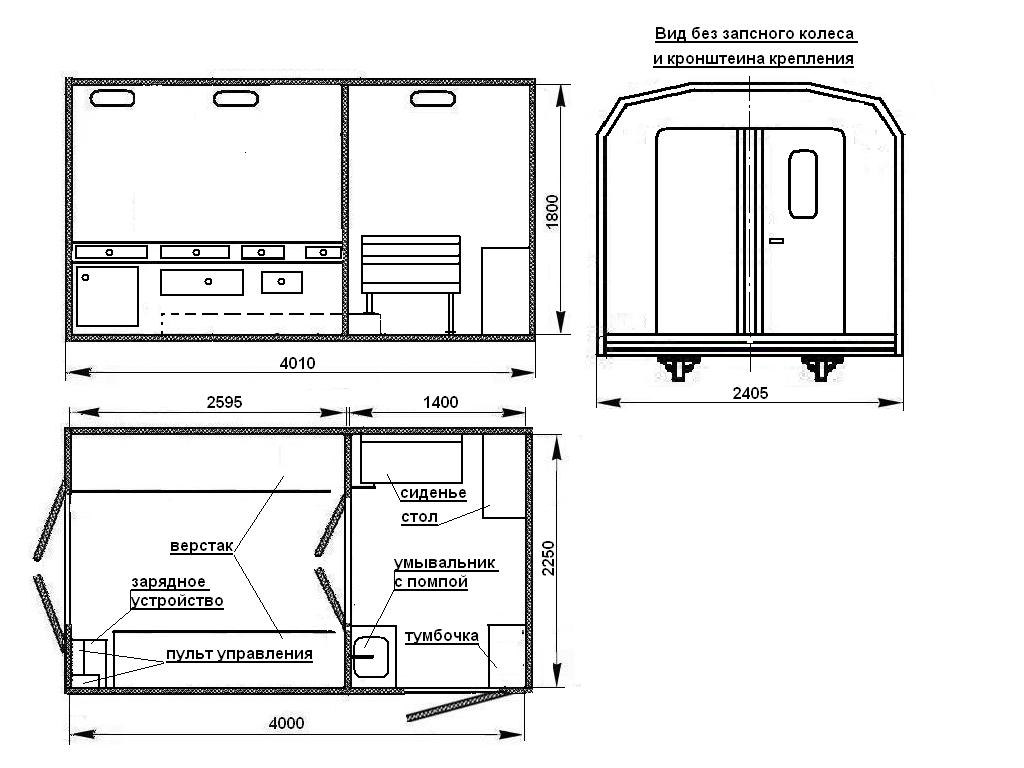 Dimensions of a URAL-4320 KUNG shelter box
Internal dimensions of a shelter for URAL-4320
Length 4510 mm
Width 2400 mm
Height (axis) 1800 mm
Height (at the sidewall) 1390 mm
Vehicle history

Uralski Awtomobilny Zawod (UralAZ for short) already started the serial production of the Ural-375 in 1961. This vehicle was very similar to the later Ural 4320, but has a gasoline engine. The disadvantage was that the fuel consumption was very high at around 45 litres per 100 kilometres for a truck of this weight class. Accordingly, attempts were made as early as the late 1960s to develop a model with a more economical diesel engine.
The early introduction of a Ural truck with a diesel engine mainly failed because there were no suitable engines available in bulk. In the 1960s, for example, the UralAZ developed a suitable engine under the name Ural-640 and made it ready for series production. However, there was also a lack of production facilities, so the project ultimately had to be dropped.
In 1969 the plans for the new KamAZ plant in Naberezhnye Chelny became concrete. The engine production there was designed to supply other vehicle manufacturers in the Soviet Union with urgently needed diesel engines. Meanwhile, the Jaroslawski Motorny Zawod developed prototypes for the later engines and transmissions, which KamAZ was to produce in series. In the same year prototype engines of the type JaMZ-7E641 (Russian ЯМЗ-7Э641) were delivered to the UralAZ, as well as suitable experimental manual transmissions of the type JaMZ-E141 (Russian ЯМЗ-Э141). Both were installed together in a Ural 375D and subjected to extensive tests from January 1970. Almost 20,000 kilometres of test drives were made, and various defects were particularly evident in the new diesel engine. To remedy this, he was returned to the Yaroslavsky Motorny Sawod.
Two years later, in 1972, the engine came back to the UralAZ under the name JaMZ-740. It was reinstalled in a test vehicle called the Ural E4320. After further testing was completed in 1973, preparation for manufacturing the Ural-4320 with a diesel engine was approved. Other prototypes had previously been built, including examples of the later Ural-4420 tractor unit. In addition to the new engine, several other changes were later adopted in series production. This affected, in particular, the cabin and the interior, the radiator grille, the axle housing, the transfer case and also the manual transmission.
In 1974 further prototypes for new acceptance tests were built, the tests themselves were completed in 1975. Thereupon on December 31, 1975, the responsible Soviet Ministry approved the serial production of the trucks. The engine supplier KamAZ started production in 1976 and the first five production vehicles of the Ural-4320 were completed in December 1977. 25 trucks left the factory by the end of the year.
The problem with poor engine availability should continue for a while. In 1978, only 100 of the new trucks could be built. Until about 1986, the loading areas used were the same as those of the Ural-375, which was still manufactured. Only then were other bodies specially made for the Ural-4320. In 1990, production reached 31,500 vehicles. Most of the Ural-4320 were delivered to the Soviet Ministry of Defense or the Army. But they were also used for civilian purposes, and vehicles are still exported today.
After the collapse of the Soviet Union, production of the Ural 375D was discontinued in 1993. In particular, it was built in parallel for so long because the gasoline engine remains operational for a long time in very cold regions. In the mid-1990s, the UralAZ started a cooperation with IVECO. As a result, some of the trucks today no longer have the classic long hood, but rather cabins such as those used in the Iveco T series.
As of 2016, the model is still being built almost unchanged by the manufacturer, with today typically six- and eight-cylinder engines of the types JaMZ-236 and JaMZ-238 are used. This means that outputs from 132 to 176 kW (180 to 240 hp) are available. Since around 2013, completely different diesel engines from the same manufacturer have been installed. KamAZ, on the other hand, no longer delivers engines. A successor has been offered under the name URAL NEXT since 2015.
Recently, the Ural-4320 can be found again in the Truck Trial due to its off-road capability.
Military importance

The Ural-4320 was a standard vehicle of the armies in the Warsaw Pact. A large number of these trucks can still be found today in the Russian and Ukrainian armed forces. The truck has also been exported to various African countries, and can also be found in Iraq and Afghanistan.
The National People's Army of the GDR procured the Ural 4320 for the first time relatively late in 1983. By then the predecessor had already been imported. Both trucks were used both with platform bodies and with various special bodies. In addition, a small number of Ural-44202 tractor units came to the NVA, which are based on the Ural-4320.
Armoured versions of the Ural-4320 have also been built.
Features:

(All data given apply to the basic model Ural-4320 and refer to around 1989.)
Length 7366 mm
Width 2674 mm
Height 2870 mm
Wheelbase 3500 + 1400 mm
Empty weight at least 8425 kg
Payload 5000 kg
permissible trailer load 7000 kg
permissible total weight 13,425 kg
maximum front axle load 4260 kg
maximum rear axle load (double axle) 9,415 kg
Tyre size: 14.00 R 20
Top speed, fully loaded 85 km / h
Fuel supply 300 l + 60 l optional, also 210 l + 60 l stated
middle driving range including reserve 700–1100 km
average fuel consumption 27–38 l / 100 km
Frame riveted longitudinal and cross members
Towbars two rigid tow hooks at the front, buffered drawbar at the rear
Tubular tires 14.00-20 for variable air pressure
Three-piece rim, 10-20
Tire pressure, adjustable from ... to 0.5–3.1 bar
Gradeability at full mass 30 °
minimum turning circle 22 m
Wading depth 1.5 m
In the meantime, model versions with a payload of over ten tons and a correspondingly higher total weight are on the market.
Engine
The engine of the Ural-4320, which was supplied by KamAZ, is used in various models by KamAZ itself. These include the KamAZ-5320, the KamAZ-5410 and the KamAZ-5511.
Engine model KamAZ-740.10
Type four-stroke diesel, liquid-cooled,
Direct injection with center piston combustion chamber
approved fuel diesel fuel
90 ° V eight-cylinder design
Nominal output at 2600-1 156 kW (210 hp)
Total displacement 10.85 l
Bore / stroke 120 mm / 120 mm
Compression ratio 17: 1
highest torque (1500–1800 min − 1) 667 Nm
lowest specific fuel consumption 224.3 g / kWh (at 1800 rpm / 118 kW (160 hp))
lowest idling speed 600 min − 1
highest speed 2930 min − 1
highest continuous speed 2600 min − 1
Firing order, entire engine 1–5–4–2–6–3–7–8
Cylinder order, cylinder bank on the left 1–2–3–4
Cylinder order, right cylinder bank 5–6–7–8
Turning the crankshaft to the right
Oil pressure at warm engine 0.9–5.4 bar
Lubrication system pressure circulation/spray oil
Fuel pump mechanically controlled eight-piston pump in V design
Injection nozzles marked "33", opening pressure 176.6 bar, five-hole
Two-stage coarse/fine fuel filter with water separator
After the collapse of the Soviet Union, other diesel engines were and are being installed, especially the types JaMZ-236 and JaMZ-238. Both have a larger displacement than the KamAZ-740 (namely 11.15 and 14.86 l), whereby the JaMZ-236 is a V6 and the JaMZ-238 is a V8. Today KamAZ no longer supplies engines for the vehicle.
Transmission and power transmission

The Urals have three permanently driven axles with large single tires and a lockable and releasable transfer case. The high off-road mobility is achieved by the typical tires with tractor profile and the variable tire pressure while driving.
Drive concept, permanent four-wheel drive, 6 × 6
Clutch KamAZ-14 two-plate dry clutch, mechanically operated
KamAZ change gearbox, mechanical, five gears + R gear, 1st gear not synchronized
Ratios 5.62 / 2.89 / 1.64 / 1.00 / 0.724 / R = 5.3
Mechanical transfer case, two-speed, lockable
Road / terrain ratio 1.3 / 2.15
Torque distribution VA: HA 1: 2
PTO shafts open, with needle bearings
Axle drive two-stage gear, without lock
Total translation of the axes 7.32
Electrical system

In order to achieve high off-road mobility, it was necessary, among other things, to design parts of the electrical system to be watertight. The operating voltage has been increased from 12 to 24 V compared to the predecessor.
Wiring single-wire, minus ground
Operating voltage 24 V.
Generator waterproof, three-phase current, 48 A.
Voltage control of electronic semiconductor controllers, contactless
Batteries 12 V, 190 Ah, two pieces
Motor starter 7.73 kW with magnetic switch, remote-controlled via ignition lock
Headlamp H4 halogen 55/60 watts, waterproof
Additional equipment

The Ural-4320 can be equipped with various additional technology on request and at a surcharge. In particular, this includes a cable winch attached to the rear, which is driven by the engine of the vehicle via a branch transmission. With a rope length of 65 m and a rope thickness of 17.5 mm, it is able to apply a maximum force of 70 kN. This corresponds to a freely liftable load of almost seven tons. The branch transmission could also be purchased individually, 40% of the engine power can be taken from it.
Additional equipment also includes a 60-litre additional tank, hydraulics for lowering the spare wheel, heating for the driver's cab and additional seals for various drive components for deepwater passages. In addition, a diesel-powered engine heater with 30 kilowatts of power can be ordered, which affects coolant and engine oil. So the vehicle remains ready to start even at extremely low temperatures.