Description
CURRENTLY UNAVAILABLE
Gangbusters Russian historical ZIL-157 truck for sale. Buy a majestic Soviet classic.
Czech classic car road-registration available.
ZIL-157 - an off-road truck manufactured by the Plant "Likhacheva "(ZIL).
It has been mass-produced since 1958, mainly for the Armed Forces of the USSR (AF). Used cabin from ZIS-151 with minor changes. The aircraft was subsequently replaced by ZIL-131 and Ural-375. In total, 797,934 copies of all modifications were released. Created at the end of 1954, mass-produced from 1958 to 1991 (at ZIL itself - until 1978). The last reserve was completed in 1994.
The ZIL-157 cab has been improved to facilitate the work of the driver. It has a stove powered by an engine cooling system with an electric fan. For a smoother ride, suspension shock absorbers have been improved.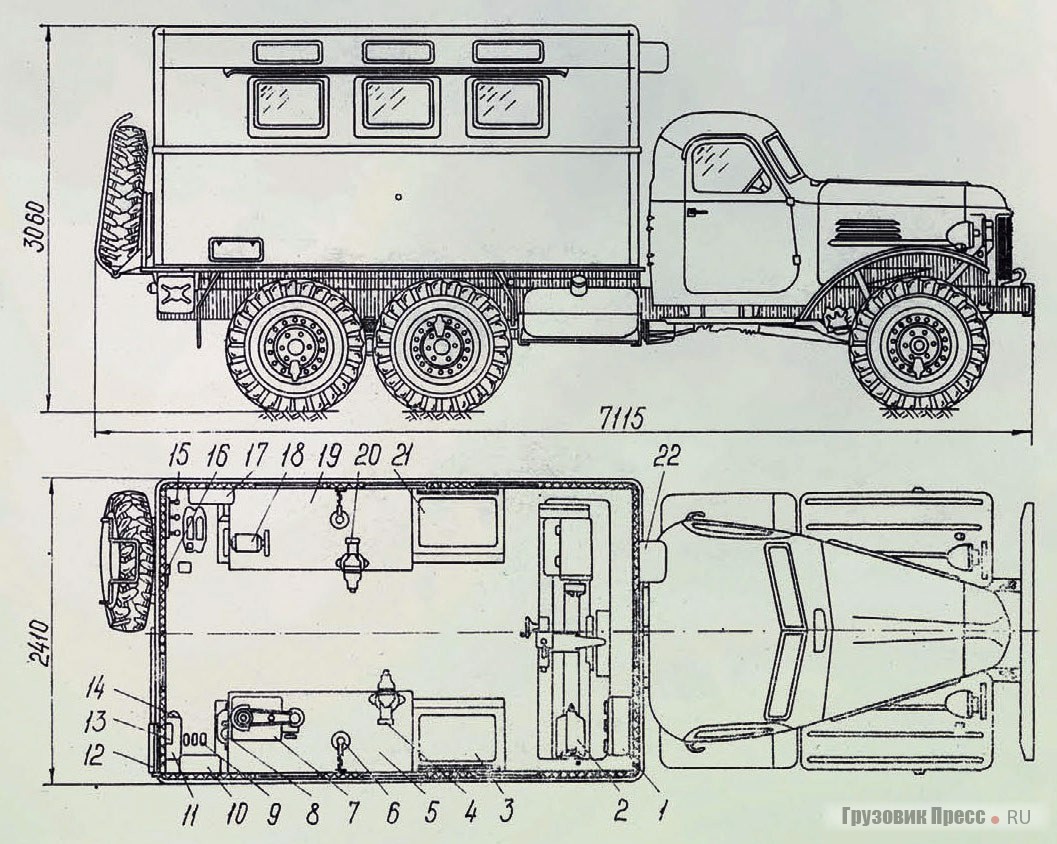 ZIL-157 KUNG shelter dimensions

History

From 1958 to 1961, ZIL-157 was produced, from 1961 to 1978 - ZIL-157K (the axle load distribution changed in this model, a new gearbox, single-plate clutch, telescopic shock absorbers were used), in 1978 production was transferred to UAMZ ( Ural Automotive Plant), at that time one of the branches (PO AvtoZIL) under the index ZIL-157KD. It was produced until 1991. Massively used on collective farms and forestry enterprises due to the high cross, unpretentiousness and volume of the body. ZIL-157 received special love for its simplicity and reliability in the Soviet Army, for which, in essence, it was created. This mainly explains his long serial production, and for a quarter of a century simultaneously with his descendant ZIL-131.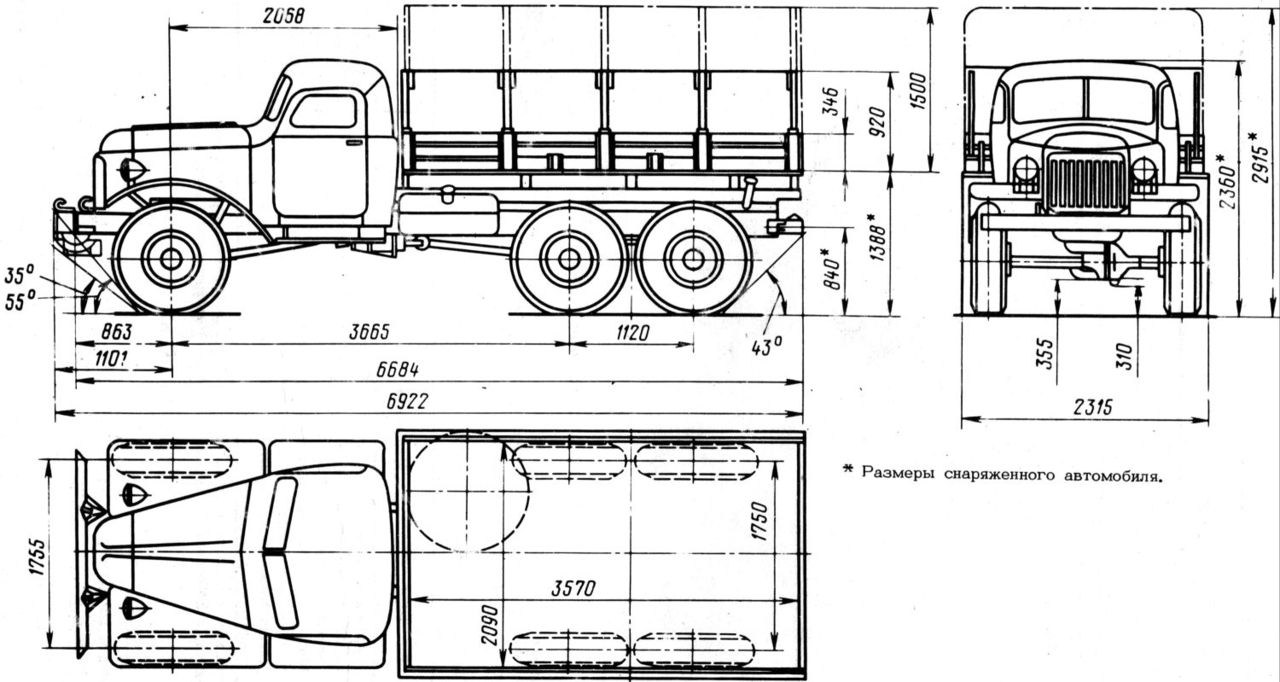 ZIL-157 flatbed dimensions
Operational Features

The ZIL-157 car, like its predecessor ZIS-151, had a complex transmission with five Cardan shafts: intermediate (between the transfer case and gearbox); to the front axle; to the middle bridge; two driveshafts with an intermediate bearing assembly on the middle bridge approached the rear axle. On ZIL-157, wheels and tires of 12.00-18 were used. For the first time in the Soviet automobile industry, a centralized pressure control system for automobile tires was used on a truck. The driver from his seat could regulate the pressure in the tires (in all or optionally).
The automobile compressor allowed to continue driving with small holes in the tires. When driving on snowy or wetlands, it was possible to briefly reduce the pressure to 0.7 kg / cm2. In this case, the vehicle speed should not exceed 10 km / h. The tire resource for such a ride did not exceed 150 km (when operating with a normal pressure of 2.8 kg / cm2, the guaranteed tire mileage is 10 thousand km).
In winter, the machine requires careful supervision of the cooling system; if necessary, heat insulation covers on the radiator are used.
A serious drawback for such a heavy truck is the lack of a hydraulic power steering.
Technical specifications

For the revised ZIL-157K version, from 1971:
Engine: six-cylinder four-stroke gasoline engine, water-cooled
Engine type: "ZIL-157K"
Power: 110 hp (81 kW) at 2800 rpm
Displacement: 5555 cm³
Bore: 101.6 mm
Stroke: 114.3 mm
Compression: 6.5: 1
Torque: 338 Nm at 1100–1400 rpm
Mixture preparation: carburettor, type K-84M
Firing order: 1–5–3–6–2–4
Transmission: mechanical five-speed transmission, first gear unsynchronized
Transfer case with two-stage off-road reduction
Tank capacity: 150 + 65 l
Consumption: 42 l / 100 km
Range: 510 km
Top speed: 65 km / h
Braking distance from 30 km / h: 12 m
Tire size: 12.00-18 "
Vehicle voltage: 12 V.
Starter: ST15-B, 1.3 HP
Alternator: G108-W, 225 W.
Drive formula: 6 × 6
Dimensions and weights
Length: 6922 mm
Width: 2315 mm
Height: 2360 mm (over cabin), 2915 mm (over construction with tarpaulin)
Wheelbase: 3665 + 1120 mm
Front track: 1755 mm
Rear track width: 1750 mm
Ground clearance: 310 mm
Turning circle: 22.4 m
Loading sill height: 1388 mm
Dimensions loading area (inside, L × W × H): 3570 × 2090 × 355 mm
Empty weight (with winch): 5800 kg
Payload: 4500 kg (road), 2500 kg (off-road)
permissible total weight: up to 10,450 kg (fully loaded + two people)
permissible trailer load with 2500 kg payload: 3600 kg
Front axle load: 3050 kg
Rear axle load: 7400 kg (double axle)